"Dear BBC Executives,
I think you should give me a cooking show. I am somewhat lacking in professional cooking experience or training, but I have come to notice that this isn't necessarily an issue with your commissioning team. I do however have a repertoire which extends beyond covering ice cream with swiss rolls and calling it cooking. You'll be pleased to know I have a passable smile, my skin is fairly clear and I can enunciate to an acceptable level. I know these are all things that are important to you.
Please let me know when you'd like to schedule me in
Your Sincerely,"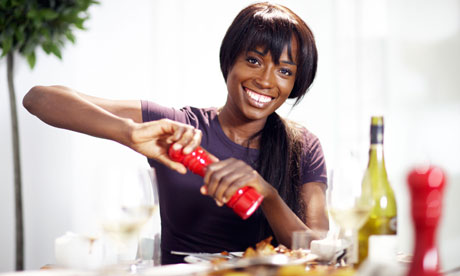 The above is a sample of a letter I would debate sending to the BBC after seeing Home Cooking Made Easy. I understand many people have never been educated in cooking, and perhaps need a few pointers along the way, but ice cream covered swiss rolls is hardly the way to go about this. Jamie, for all his sins, seems to have effectively covered the bases when it comes to basic cooking, and he does so very well - the recipes are good and although flavoursome are still easy to make for a novice in the kitchen. As someone who classes themselves as perhaps being above par on the cooking front (not bragging or anything) his shows still hold my interest as the recipes he includes are things I would genuinely want to cook and provide a point of inspiration for other meals I might make.
But this isn't necessarily the foodies cooking show. For me the best cooking show i've seen in a long time was Raymond Blanc's Kitchen Secrets, an exquisite guide to french cooking. Starting with something relatively basic that everyone could make (if you can source/afford the ingredients) but progressing to a masterpiece that simply makes you want to be a better cook so you too can eat like that in your own home. Even if you never have any intention of making some of his classical interpretations, there is an enjoyment in seeing a master at work that you cannot get from someone making a butternut squash soup. This series also taught me Raymond Blanc is a very very funny man.
And from looking at Raymond, you can tell he actually eats his food. and enjoys it.
the proof is always in the pudding, not in the smile that made it.